Profhilo is an anti-ageing, injectable hyaluronic acid based product used for treating skin laxity and improving skin quality. It is injected under the skin using the BAP technique. It then spreads over an extended area to rehydrate, retexture and remodel crepey, lax skin.
Over the next four weeks, the hyaluronic acid stimulates four different types of collagen and elastin production. Essentially, this causes bio-remodelling of the skin to create a smoother, plumper, more hydrated and youthful appearance.
It is used on the face, neck, decolletage, arms, hands and knees, or indeed any part of the body where the skin shows signs of ageing.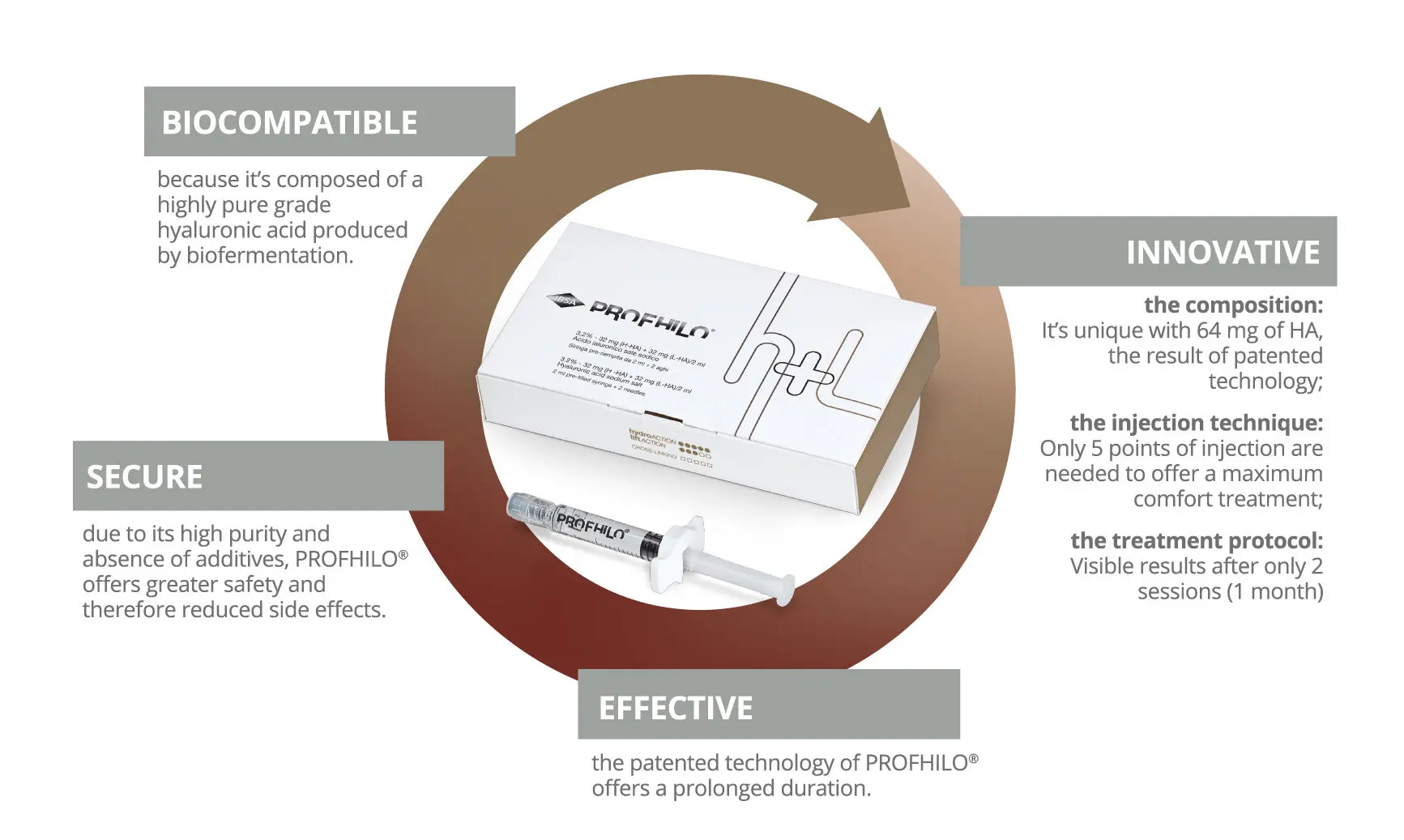 What areas can be treated with Profhilo
Crepey skin texture
Lax, sagging skin on face and neck
Fine lines and wrinkles
Dry, dehydrated skin
Overall skin rejuvenation
Treatment unsuitable in the following cases
Active infections
Known sensitivity to hyaluronic acid products
Herpes simplex virus
Pregnancy
Anticoagulants/Blood thinning agents (e.g. Aspirin, Warfarin)
Possible side effects
While Profhilo is a minimally invasive procedure it may result in some temporary side effects that should resolve within 24hrs hours post-treatment.
Redness at the injection site
Some swelling at the injection site
Mild tenderness
Potential bruising
Itching sensation at the injection site
When will I see the results?
A difference in skin quality can be seen immediately; the skin will appear smoother, plumper and more hydrated. Two treatments are required with a one month interval in between. Optimal results will be seen after the second treatment. As time passes these effects are enhanced and can last up to 6 months, depending on each individual patient.
What is the recovery time?
Immediately after the treatment, there may be some localised redness and swelling at the injection entry point. This should disappear after 24hrs.