High-intensity focused ultrasound (HIFU) lifts and tightens skin for a non-surgical face lift and neck lift. Since its release in 2012, Ulthera (Ultherapy) has been quickly growing in popularity.
Ulthera or Ultherapy is now one of the most popular non-invasive therapies in modern Aesthetic Medicine. Ultrasound energy generates low levels of heat in the targeted skin. This stimulates the cells for collagen production and tissue rejuvenation.
Smoother, firmer, and brighter skin in the months after treatment. Your eyes will look more open, brows more lifted, fine lines softened, jawline more tight, neck more firm and pores reduced. Because of the restored elasticity, your skin will feel softer and more supple. If you don't think you need surgery yet or simply hate the thought of the knife, HIFU may be the natural facelift or neck lift alternative for you.
Ulthera is FDA-approved to lift the skin on the face and neck. Common treatment areas include:
Brows and forehead
Chin
Neck ("turkey neck")
Décolletage
'Bingo' wings / Upper arms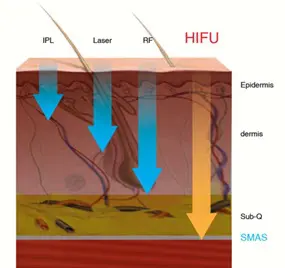 What are HIFU (Ulthera) treatments like?
No preparation is needed. Ultrasound gel will be applied to cleansed skin. The handpiece will then be used to deliver ultrasound energy beneath the skin. Some patients may feel the energy at this point. The physician will work with you to make the experience as comfortable as possible. Each treatments takes 60 to 90 minutes, but may be performed within 30 minutes. Some patients report feeling a slight prickling or heat under the skin. Cooling is not required. Anesthetics will be provided to ensure patient comfort as tolerance levels vary, but treatment isn't unbearably painful.
What happens after treatment?
You can get right back to your day — there is no downtime required. Collagen production will kick off after only one session, with results appearing over the following months. Your skin will be healthier, stronger, and younger-looking, without any unnatural, drastic changes.
What about side effects?
You might see slight redness and/or swelling post-treatment, and might feel some tingling. These will disappear within hours. While the results will not be as dramatic as with surgical facelifts, HIFU skin tightening is clinically proven to be safe, with natural and gradual rejuvenation effects.
How many treatments will I need? How much would it cost?
Most patients need only one session. Results will appear over 2 to 3 months or even up to 6 months following treatment. Your body will continue to produce fresh collagen over one year. After that, you may wish to continue touch-up treatments. Treatment costs start at 250€ for a single passage treatment in a smaller area (20 minute session).
Will HIFU work for me?
HIFU works well with anyone with mild to moderate sagging or loosening skin. Treatments can be performed on the full face and neck or specific areas as needed. Younger patients who wish to get a head start on the collagen production gain also benefit from ultrasound tightening. For serious sagging, we can combine Ulthera with other treatments like for example a threading lift procedure with Silhouette Soft (another non-surgical face lifting treatment).